Agrify Insights™ Cultivation Software
Cloud-based software that lets facility owners, managers, and growers effortlessly plan, monitor, and optimize results from their grow for high-quality and harvests.
Agrify Insights At A Glance
Agrify Insights helps growers succeed by applying data science and a continuous improvement process to every aspect of Cannabis production. Our turnkey integrated control systems and quantitative approach to indoor agriculture result in higher consistency and forecasting of yields, cannabinoids, and terpene production.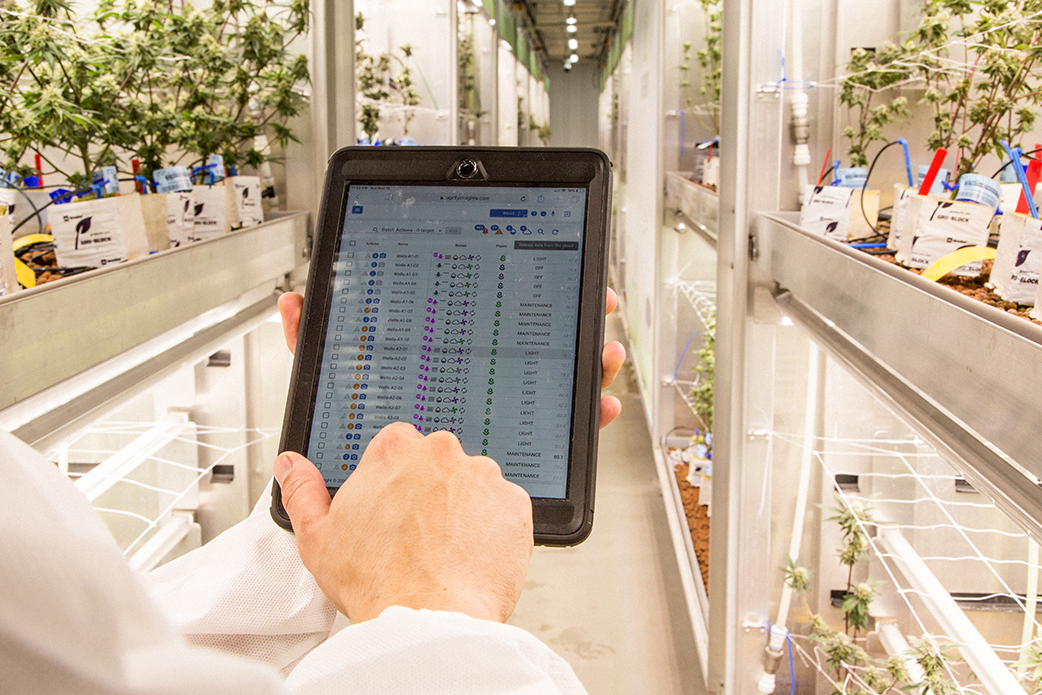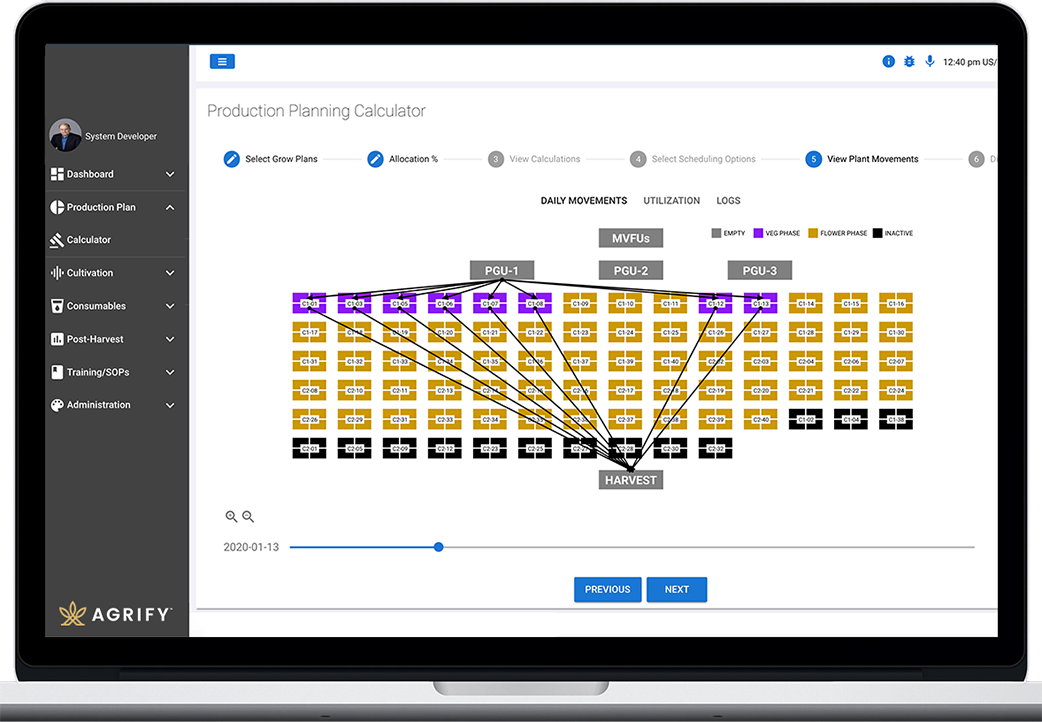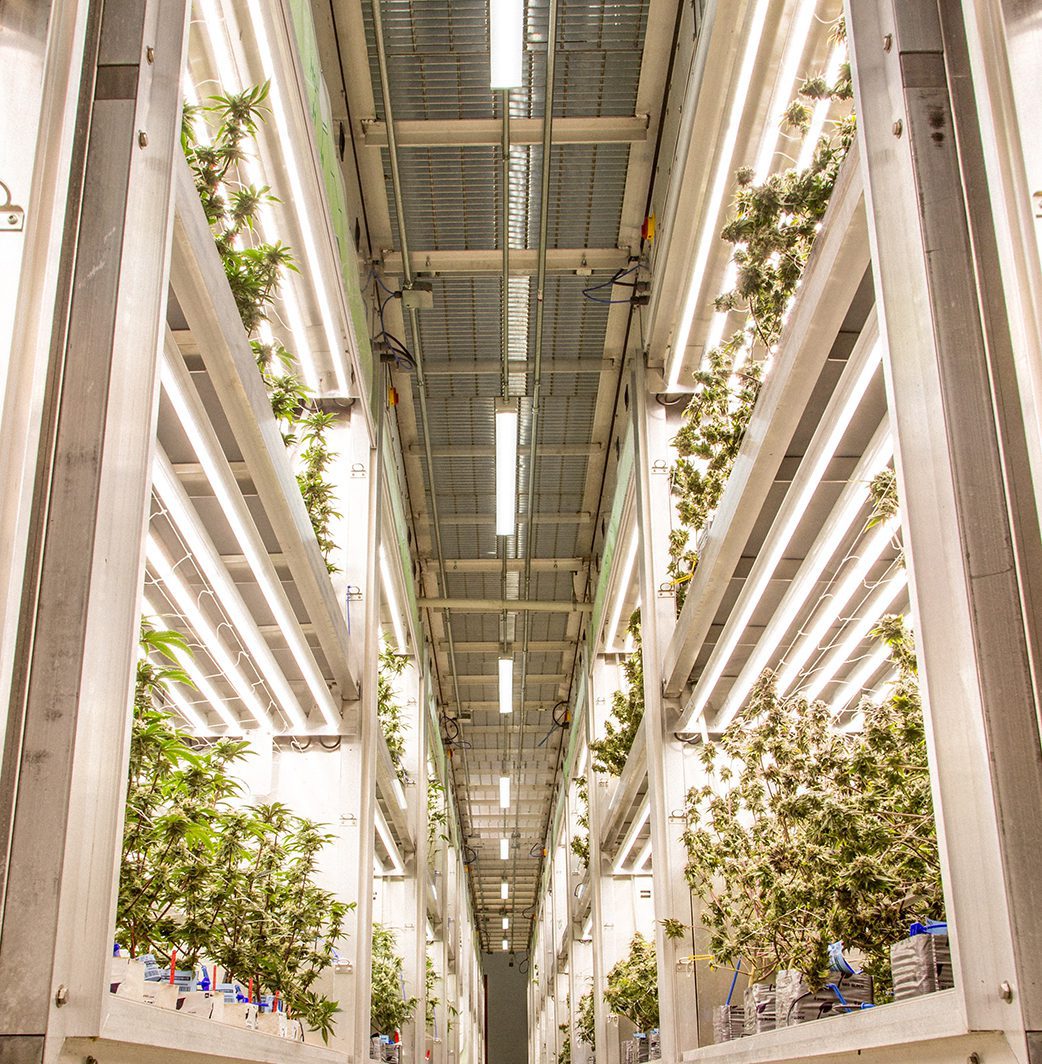 Cannabis Cultivation Software at Any Scale
Start by checking your crop status at a glance, then drill down to review current and historical irrigation times, temperature, humidity, CO2, vapor-pressure deficits (VPD), and more.
Course-correct your grow with proven remediation plans to recover from pests, pooling water, excessive plant height, and other potential dangers.
Develop new strains by defining experimental grow phases and quickly review millions of data points.
Brochure
Agrify Insights™ Brochure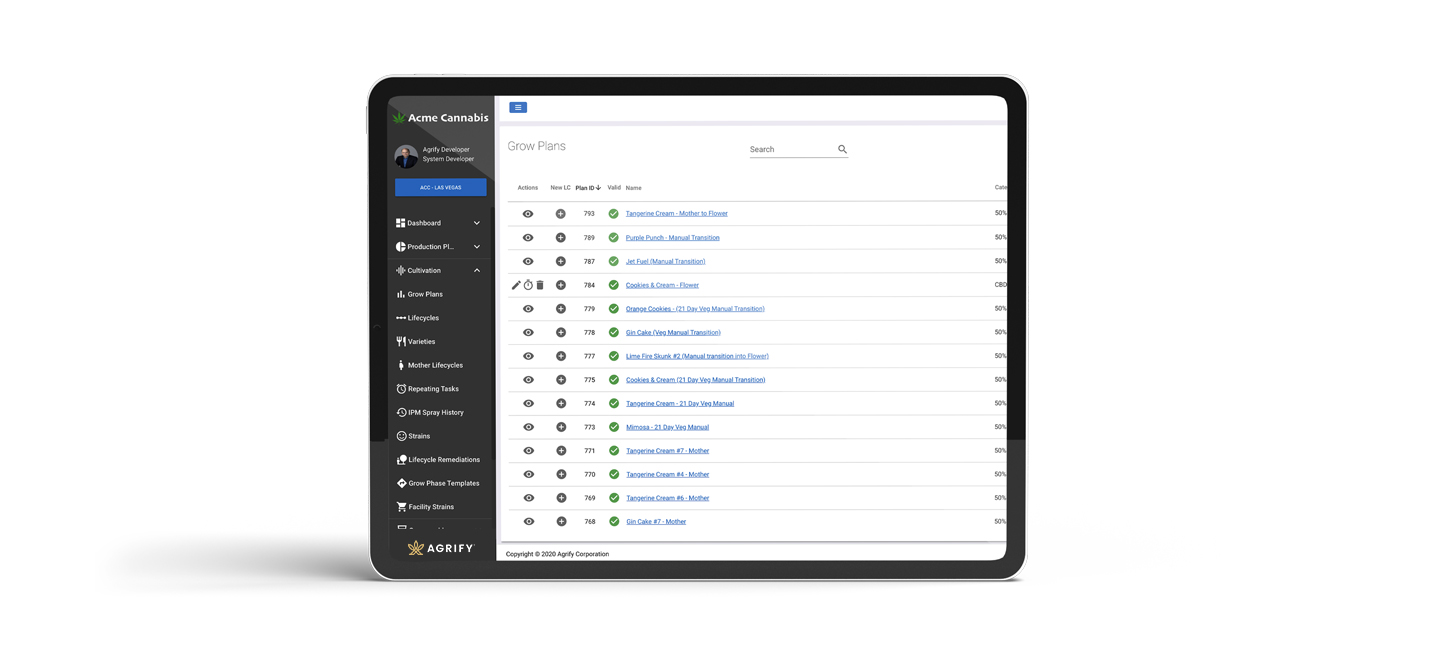 Pre-programmed and Custom Grow Plans
Pre-loaded and pre-tested strain-specific grow plans help ensure initial success, while automated data collection and analysis tools drive informed decisions about customizing "recipes" to fully align with cultivation goals.
Transparency from Seed-to-Sale
Control Your Integrated Grow Systems
Create optimized and unique timeline "recipes" for each strain that automatically adjust photoperiod, light intensity, irrigation, microclimate, and manage plant-touching tasks.
Assess present and historical temperature, humidity, CO2, VPD, irrigation times and more for each vertical farming unit. Calculate overall facility health and run a dynamic presentation on monitors throughout your facility, displaying room scorecards, equipment status, and hardware and infrastructure warnings or failures.
Define custom notification escalation policies that includes SMS text messages,emails, and phone calls for every type of exceptional event that can occur during your grow.
View historical and future-projected consumables usage. Automatically generate purchase orders when you run low on supplies.
Correlate changes in the growing environment to differences in harvest weights, cannabinoid, and terpene profiles from each batch, easily and effectively. Then adjust grow plans for optimal and repeatable future outcomes.
Track the location of plants with barcode scanning and custom barcode printing. Automatically synchronize data between Agrify Insights and Metrc. Quickly access and review standard operating procedures, product manuals and safety datasheets, or upload your own via our integrated content management system.
| | | | | | |
| --- | --- | --- | --- | --- | --- |
| Guaranteed Availability: | 99.95% | Voice Control: | Yes | Supports Traditional Grows: | Yes |
| Average Data Request Response Time: | 3 seconds | Supports Dark Mode: | Yes | Supported Label Printer: | Zebra ZD-420T |
| Supported Browsers: | Chrome, Safari | Mertic/Imperial Toggle: | Yes | Barcode Scanner: | Netum Bluetooth Barcode Scanner (or equivalent) |
| Hosted by: | AWS | Roles Based Security: | Yes | Recommended Hardware: | Refurb iPhone 7+, iPad Mini 5th Generation or Newer, Lenovo Chromebook Duet 10, Windows 10 laptop, 32 GB Wifi iPad with Keyboard, Apple Macbook (any edition), Amazon TV Fire Stick 4K (for "presentation mode" only) |
Ready to take your grow to the next level?
Related Products and Services