Add a header to begin generating the table of contents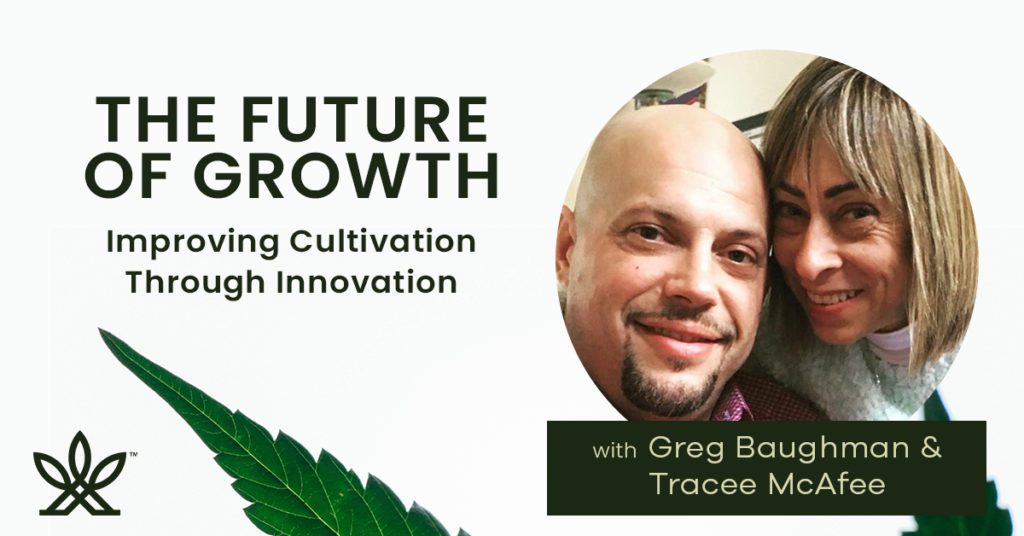 On the latest episode of Agrify's The Future of Growth podcast, Chief Science Officer David Kessler spoke with Tracee McAfee and Greg Baughman, the minds behind drying and curing technology Cryo Cure, which shortens the weeks-long drying and curing process to as little as 12 hours, depending on the cultivar. Here are some highlights from that conversation, which covered the importance of cultivation consistency, solving long-standing cultivation issues, and the value of saving space in the grow room.
Supporting consistent phytocannabinoid and terpene content
Customers come to expect a consistent experience from a particular cultivar, but this can be difficult to guarantee with so many variables that affect phytocannabinoid and terpene development during cultivation. It's the kind of issue that Baughman said the cannabis industry needs to address first and foremost.
"If you buy a box of Kellogg's Frosted Flakes in Ohio, and I buy a box in California, they are the same cereal," he said. "The cannabis industry is unlike any other industry, where you can buy a big-name brand in Ohio and then go buy a big-name brand in California—the same flower, same packaging—but they are way far apart."
Fixing the core issues with freeze-drying cannabis
Cryo Cure traces its origins to a passage in "The Guru of Ganja" Ed Rosenthal's "Marijuana Grower's Handbook" that mentions freeze-drying as a way to preserve terpenes and phytocannabinoids. However, freeze-drying was far from a perfect drying and curing method at the time. The equipment used to make beef jerky and banana chips was not built for cannabis, so the results were brittle and less potent.
The Cryo Cure process, Baughman explained, addressed those pitfalls. The flower stabilized phytocannabinoid and terpene content in a way that typical freeze dryers could not achieve. Notable as well are the visuals and aromas: The flower retains its vibrant colors and pungent smell. Today, Cryo Cure has Rosenthal's endorsement, along with other cannabis industry figures like former High Times editor Danny Danko and renowned cultivator Rick Naya.
"It's all due to the vacuum pressure that [the cannabis] is under [in a Cryo Cure machine]. It doesn't allow the cellular structure of the plant to collapse as it dries, so it keeps its volume, its shape, its size," Baughman said. "Even if you zoom down with the microscope…to the trichomes [where most phytocannabinoid and terpene content is found], you'll notice the trichomes don't warp."
McAfee explained the differences are so great between freeze drying and Cryo Cure that the flower has its own name: Cryo Cured flower.
"Our customers see Cryo Cure… as a mark of distinction from regular freeze-dried cannabis," McAfee said.
A smaller footprint with maximum effect
Cannabis cultivation requires lots of space. The average cultivation facility is approximately 33,900 square feet, of which Baughman estimates 20% is used for drying.
Since real estate can be expensive, Baughman emphasized the importance of reducing square footage without affecting harvest quality. Like the space-saving design central to Agrify's Vertical Farming Units (VFUs), Cryo Cure reduces the space required for drying to a machine that takes up a small fraction of the space.
"Our largest machine dries 1,200 wet pounds [of cannabis] every 12 to 14 hours and gets that moved on and into packaging within 24 hours," he said, describing the space-saving and time-saving features as "a game-changer" for cultivation.
Listen to more The Future of Growth episodes
Subscribe to The Future of Growth on your favorite platform, including Spotify, Anchor, Google Podcasts, Breaker, Radio Public, and Pocket Casts. You can catch up on prior episodes here, each of which features an industry leader's unique take on where cannabis is headed.
Add a header to begin generating the table of contents